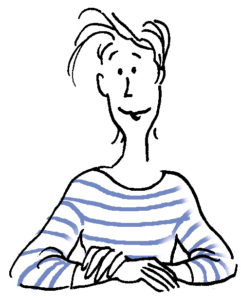 Over mij
Ik zou hier heel zakelijk een aantal feiten over mijzelf kunnen opsommen. Maar dat doe ik niet, want dat past niet bij mij. Liever vertel ik waarom ik teken en wat voor toegevoegde waarde tekeningen en animaties in mijn ogen hebben. Ik teken omdat ik de (zaken)wereld wat zachter en mooier wil maken. Ik vind illustraties en animaties het ideale middel om gevoelige, moeilijke, of droge/taaie onderwerpen wat luchtiger en speelser te maken. Waardoor ze vaak ook beter zorgen voor het beoogde effect. Denk aan een stripboek voor het bespreekbaar maken van leiderschap, of een animatiefilmpje over 'pestdieren' Geen makkelijke onderwerpen, maar verpakt in een illustratie of animatie toch een stuk 'behapbaarder'.
Tekenen is van jongs af aan mijn uitlaatklep geweest. De werelden die ik creëerde waren mijn veilige haven en daar was ik graag. Niemand keek er dan ook raar van op dat ik naar de Kunstacademie ging. Vrijwel direct nadat ik mijn diploma had behaald ging ik aan de slag als freelance tekenaar. Omdat ik op mijn best ben als ik helemaal zelf kan bepalen hoe een boodschap er visueel uit komt te zien. Daarbij maak ik dankbaar gebruik van mijn meest favoriete ingrediënt: humor. Want daarmee bereik je veel. En bovendien vind ik dat deze wereld wel wat meer humor kan gebruiken!
Wat ik dan zoal maak? Tja, de mogelijkheden zijn eigenlijk oneindig … Neem een kijkje op deze website om voorbeelden te zien.
Klanten voor wie ik gewerkt heb zijn onder andere: Ministerie van Veiligheid en Justitie, Ministerie van Infrastructuur en Milieu, KPN, CliniClowns, uitgeverij SGO, uitgeverij Wolters Noordhoff, Siemens, Volkswagen, Kia Motors Nederland, Aafje thuiszorg en zorghotels, Accare kinder en jeugdpsychiatrie.
About me.
In an appropriate, business-like fashion, I could list some facts about myself at this point. But I won't because that's not who I am. I would rather give you a few of the reasons why I draw and think illustrations and animations are important in the world of business. I feel my drawings can make the iron hard world of business a bit softer and more appealing. Illustrations and animations are the ideal ways to transform complex, confusing and often tedious subjects into something a more light-hearted and playful, thus strengthening the intended effect and making the presentation much more interesting. Consider using a comic book to make management skills debatable or an animation about the subject of dealing with annoying pests. Subjects are more manageable and easier to understand when presented as an illustration or animation.
From childhood on, I have used drawing as a way of releasing my emotions. The worlds I created were a safe harbour where I loved to hang out, which is why no one was surprised when I went to art school. Directly after graduating, I started working as a self-employed illustrator. I remained freelance because I'm at my best when I can decide for myself about how my message will visually turn out. My work is often filled with humour because, with humour, one can have a much greater impact. The world can be a much better place with humour.
And just what do I create? Well, the possibilities are endless. Take a look at this website for a few examples. My list of clients include amongst others: Ministry of Justice, KPN, Siemens, CliniClowns, Volkswagen, Kia Motors Netherlands and several publishing companies.